Season 4 - Signups open now!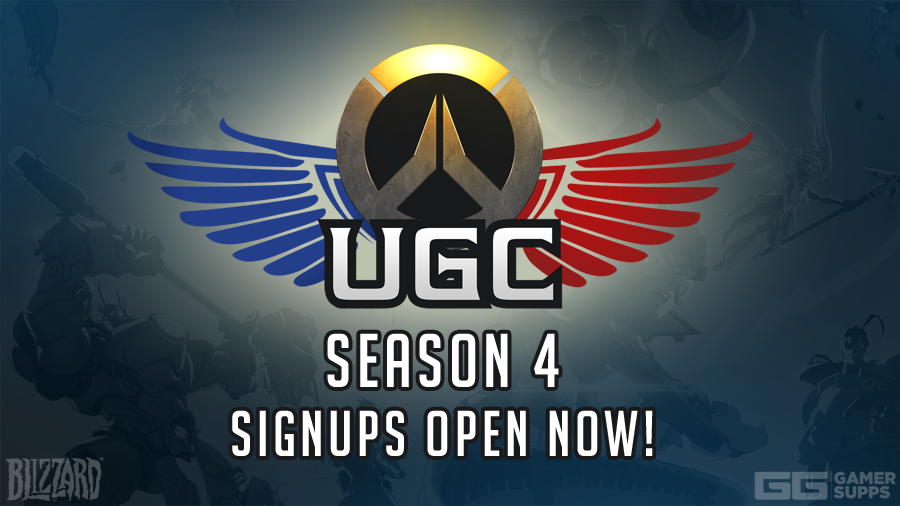 Thu, Apr 13, 2017 by snowblindfrog
SEASON 4 SIGNUPS OPEN NOW!!!
Season 4 of UGC League - Overwatch starts Wednesday May 17th! NA Gold 1st place team gets $450 worth of prizes donated by Blizzard and GamerSupps!
Signups for Season 4 are OPEN now, so head over to our sign up page and click the "Battle Net Login" button to begin setting up your team! We're currently accepting new teams in North America, Europe, Asia, South America & Australia/New Zealand regions. Each Region must have a minimum of 8 teams for us to offer matches for that division.
Season 4 map list
Week 1.) King's Row/Watchpoint: Gibraltar + Nepal (TB)
Week 2.) Hollywood/Route 66 + Ilios (TB)
Week 3.) Hanamura/Lijiang Tower + Nepal (TB)
Week 4.) Temple of Anubis/Oasis + Ilios (TB)
Week 5.) Volskaya Industries/Eichenwalde + Nepal (TB)
Week 6.) Numbani/Dorado + Ilios (TB)
Regular season will be following by a 4 week Double Elimination playoff period. Teams will be expected to play 2 matches per week in playoffs.
Exciting changes for Season 4
- Prizes: As mentioned above, the winning team in NA Gold division will receive $450 worth of prizes donated by Blizzard and GamerSupps.
- Official South America expansion: We are excited to have added BlackClaud-1533 to our Admin Team to run our new South American division.
- New NA Silver division: This season we're adding a Silver division for North America to better segment teams and ensure good competition. Division order will be Gold-Silver-Steel.
- New default match nights for North America: Gold = Wednesday and Silver/Steel = Thursday. This was done in an effort to not split our casting viewership by having everything on the same night.
- Recruiting: This season we've added a new feature that makes finding players for your team even easier! Players can now set a Recruitment Status on their profile to let you know they are looking for a team. Other players can then post comments about that player and their experience right on their profile. All players actively looking for a team will be displayed in a new Recruiting page sorted by comp SR.
- New Discord server: This new server is dedicated solely to UGC Overwatch and should make it easier for teams to use all the features such as scrim finder, recruiting sections and our Twitch bot.
- Match highlights: This season we are planning to start a new Match Highlights series on Youtube. If you did something awesome in your UGC match and want everyone to see it, head over to our submission page and send it our way!
- More match casting: This season we are planning to add more casters to our roster so that we can cover a wider variety of matches.
Quick Setup Guides for new teams & players: How to create/setup a new UGC OW team & How to join a UGC OW team
Casting call: We are looking to recruit some new casters and camera people for Season 4 to help us cover a wider assortment of matches. If you or anyone you know are interested please get in contact with us!
How to contact us:
Discord
Battle Net snowblind-1570, BOOMstick-11199, Iyarkonan-1785 & BlackClaud-1533
Twitter

For players unfamiliar with our league, UGC is a completely free grass roots league run by the community for the community. We currently run the largest amateur Team Fortress 2 seasonal league in the world with over 8,000 rostered players in North America, South America, Europe, Asia and Australia. We have been around since 2002 and have supported a number of Steam games throughout the years. This is our fourth season supporting Overwatch!