Season 8 - Signups open NOW!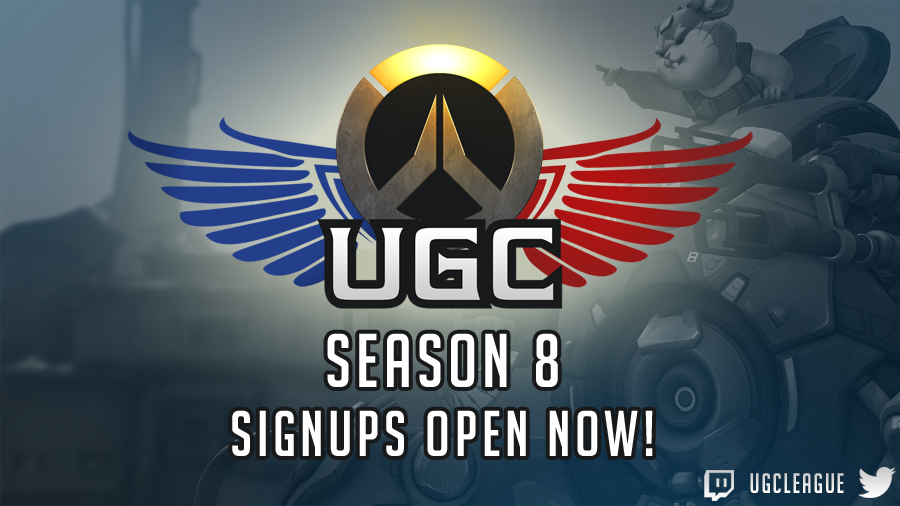 Sat, Aug 18, 2018 by snowblindfrog
SEASON 8 SIGNUPS OPEN NOW!!!
Season 8 of UGC League - Overwatch starts Sunday September 16th!
Signups for Season 8 are OPEN now, so head over to our sign up page and click the "Battle Net Login" button to begin setting up your team! We're currently accepting new teams in North America, Europe, Asia, South America & Australia/New Zealand regions. Each Region must have a minimum of 8 teams for us to offer matches for that division.
Quick Info
Season starts: Sunday September 16th
Duration: 6 weeks of regular season play followed by 4 weeks of playoffs (1 match per week)
Match nights: Sundays for all divisions
System: PC only
Signups close: Thursday September 20th
Updates for Season 8
1.) New default match night: Match night has been moved to Sunday for all divisions. Teams are free to reschedule matches if needed but all matches must be played and reported by each Wednesday at 11:59pm EST.
2.) Wrecking Ball: Allowed
3.) Recruiting: LFT posts older than 30 days have been pruned from the Recruiting Page.
How to contact us:
Discord
Twitter

For players unfamiliar with our league, UGC is a completely free grass roots league run by the community for the community. We currently run the largest amateur Team Fortress 2 seasonal league in the world with over 8,000 rostered players in North America, South America, Europe, Asia and Australia. We have been around since 2002 and have supported a number of Steam games throughout the years. This is our 8th season supporting Overwatch!