Season 11 - Starts Monday Sept. 9th!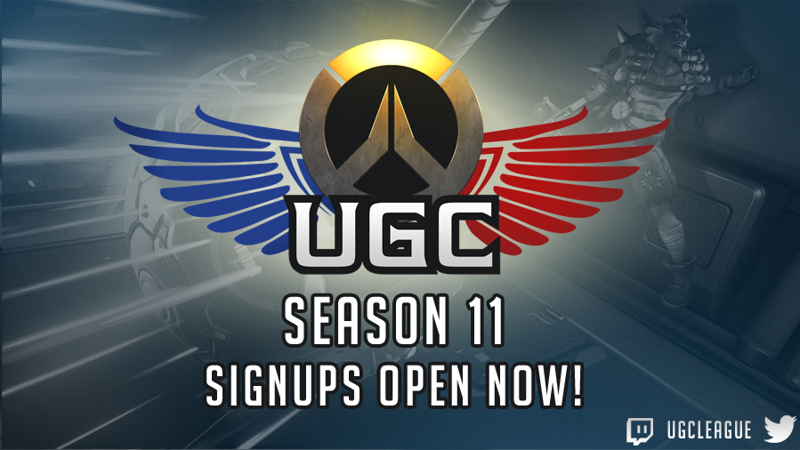 Mon, Aug 5, 2019 by snowblindfrog
SEASON 11 SIGNUPS OPEN NOW!!!
Season 11 of UGC League - Overwatch starts Monday September 9th! ALL skill levels welcome!
Signups for Season 11 are OPEN now, so head over to our sign up page and click the "Battle Net Login" button to begin setting up your team! We're currently accepting new teams in North America, Europe, Asia, South America & Australia/New Zealand regions. Each Region must have a minimum of 8 teams for us to offer matches for that division.
QUICK INFO:
Season 11 Starts: Monday Sept 9th
Signups close: Wed. Sept 11th
Duration: 8 weeks of regular season matches (1 match per week) followed by 2 weeks of playoffs (2 matches per week)
Match night: Mondays (+Wednesdays during playoffs)
Match time: 8:30pm EST
Cost: NA Premier $35/team entry fee. All other divs FREE
Prize pot (NA Premier Only): $560 (16x$35) / Stretch Goal: Anything over the entry fees will go to the winning team in Intermediate!
System: PC only
Regions: NA/SA/EU/AS/AUZ-NZ
Skill level: All skill levels welcome!
Divisions:
NA Premier (Entry fee required): GM+ preferred
NA Intermediate: Masters and below with 2 GM limit
NA Beginner: Diamond and below with 1 Master limit
NA Rookie: Platinum and below only
Open: EU/SA/AS/AUS-NZ only (unless enough teams signup to split into skill divs)