4v4 Season 7 - Get READY!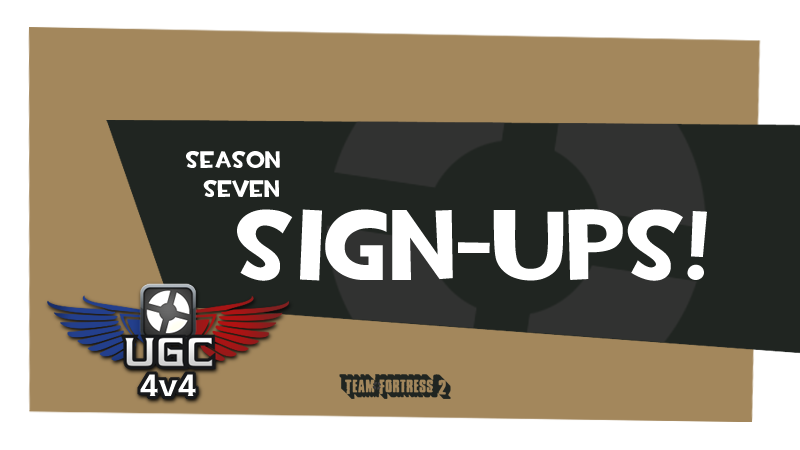 Mon, Dec 14, 2015 by Doppel
TEAMS GET READY TO PLAY!

UGC is excited to officially announce the 7th season of our 4v4 league!
If you have a team from a prior season and would like to play make sure to sign-in with your leader account and accept our invite to join the current season!
If you are a new team registering with UGC for the first time, WELCOME!
Important Dates - UPDATED
Monday, January 18th - First Week Schedules Released
Friday, January 22nd - First Match of the Season
Friday, January 29th - 4v4 Sign-ups Close
Firday, March 4thrd - 4v4 Roster Lock
Friday, March 18th - Playoffs Start
Season Format
This seasons format will feature 8 regular weeks with playoffs. There will also be a roster lock after the default match day of Week 7.
Maplist
Our maplist will be released as soon as its available. It will be posted here.
New Whitelist
The new whitelist should be available on our site about 1 week prior to the first match. Look for a news post on that.
Team Placements
Team placements are underway. Please be patient, all teams will be placed before the start of the season. Remember that you need 4 people on your roster to be considered for placement! If your team is not yet placed into a skill division please submit a division change request from your leader panel.
Reminder to All New and Returning Teams
After you have been placed into a division and have at least 4 players on your roster, don't forget to set your team to Ready in your leader panel to be scheduled for matches!
Support Tickets
Our support ticket system is live! If you have an issue that requires admin attention, please use our support ticket system. Players who login via Steam can submit a ticket as well as leaders who login with a special leader username/password. The ticket system can be located in the Support Menu once you login as a player or a leader.
Thanks to the 200+ teams that made Season 6 possible!
GOOD LUCK AND HAVE FUN!
- doppel
UGC 4v4 Admin