It's is Miggy Appreciation Month at UGC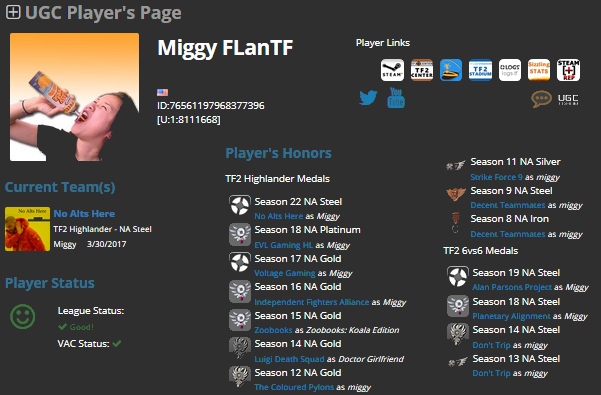 Tue, Nov 14, 2017 by Fornaught
November is Miggy Appreciation Month at UGC League!
Our friend Miggy, a UGC Admin and a dedicated TF2 player & community supporter is in a very tough battle against cancer. He needs our prayers and messages of support and appreciation. We will also post a forum thread, where you can message Miggy.
At UGC, Miggy has been our Head Anti-Cheat Admin for the last couple of years. He tirelessly worked on cheat disputes, watching hours upon hours of POV and STV demos, and tracking alts and banned players in our league. This was pure service to our TF2 community, and a volunteer effort he dedicated his time to do, for you. He made a difference, he kept our matches free of many cheaters.
Miggy's dedication to the TF2 Community can be seen in other areas, where he jumped in and DID THINGS - a man of action and good deeds here:
- Founder of TFLAN - The Florida Lan, for good people playing TF2, with medals in TF2!
- Lead Admin in TF2Stadium Anti-Cheat Team
- Created IntegriTF2 Lite Anti-Cheat sourcemod plugin for use in UGC
- UGC Overwatch Admin
Many thanks Miggy!
I played some PUBG this summer with Miggy. I would spend minutes creeping up to a team holed up in a building, planning for a sneak attack. But all of a sudden there is my teammate Miggy, with huge red afro and red stiped shirt, rushing the building and screaming over voice comms 'We are coming Boizzz, get ready!!' Pure Miggy, all fun and joy.
We love you Miggy, and we miss you at UGC!
Fornaught, Snowblindfrog, Kumori, Doppel, Blazingboy
And all the Admins of UGC!
UPDATE Nov 15: Sadly, Miggy passed away late last night. Our sympathies to his family and friends, and thank you Miggy for your time here - you are remembered.
Miggy's Memorial: http://www.ugcleague.net/forum/showthread.php?60213-Miggy-s-Memorial
Miggy's Appreciation thread: http://www.ugcleague.net/forum/showthread.php?60180-Miggy-Appreciation-Thread