Summer 2019 TF2 Leagues at UGC League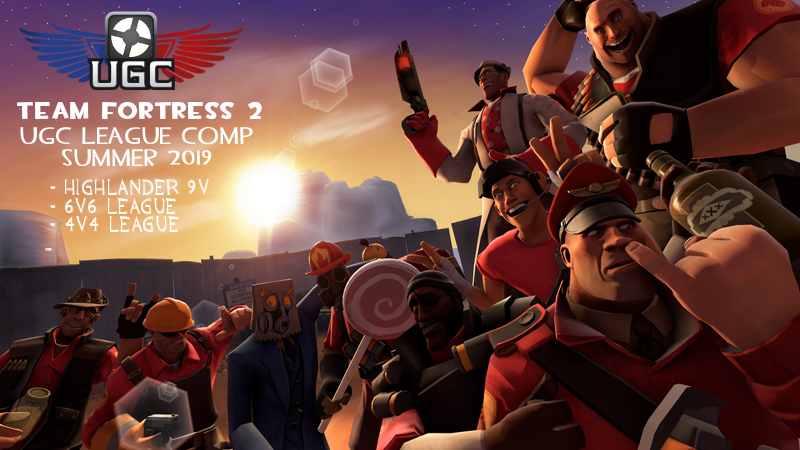 Tue, May 14, 2019 by Fornaught
Welcome to our Summer 2019 TeamFortress2 Competitions!
Join UGC for Fun & Free to Play Match Play. Team Leaders can add their team to our leagues which offer TF2 in three flavors - Highlander 9v9, TF2 6v6 and TF2 4v4. Each league has a different comp play style, with varied weekly maps and scheduled opponents.
TF2 4v4 League - Our small squad league offers amazing fast paced matchplay on KOTH - King Of The Hill maps. The first weekly match is on Friday June 7th and continues with regular firday night matches for 8 weeks. The League champions for each skill/regional division are decided in elimination playoffs for qualifying teams.
TF2 6v6 League - The standard COMP format for TF2 uses a varied map list for 8 weeks of match play in skill and regional divisions. The first match is played on Wednesday June 5th and your team plays each week vs schedueld opponents. Elimination Playoffs earn the champions full bragging rights by Seasons end!
TF2 Highlander League - Invented by UGC League, the highlander format means you can use only one player for each TF2 Class in matches. This custom 9v9 match style is for larger teams, we have a short 6 week season this summer, with start dates on June 16th and 17th. We invite you to play this great TF2 Game the way it is meant to be played... with every class in use! There are no prizes here, we don't pay you to play, we simply offer you a place for good fun and community!
There are Medals! - Each player who is a member of a team that plays six matches in one of our Leagues will recieve UGC styled TF2 game medals to wear while you play. If your team places 1st, 2nd or 3rd in a division, you will also recieve special medals titled for your placement, in ALL divisions.
We have made quite a few changes to our league based on input from teams. Two large changes are below, more will be detailed as we get closer to our seasons
Free Ringer added - Teams will be allowed one unrostered player per match if your team is short handed - your unapproved free ringer must be a player of no greate skill experience than the division you compete in.
North American Highlander teams may compete on Sunday as a default match day, see admins for help with that.
Our UGC Admin team is outstanding!
reno - Head Admin HL and 6v6
Clari-tea - Co-head Admin HL, 6v6 and 4v4
Bonesaw - 4v4 Head Admin
GeneralNick - Senior Admin HL (North America)
gobitoe - Senior Admin 6v6 (North America)
sar - Senior Admin 4v4 (North America)
OPEN - HL/6v6 Admin (Europe) - please apply
quantic - Senior Admin (South America)
pepito - HL (South America)
OPEN - 6v6 (South America) - please apply.
fwishy - Senior Admin 6v6/4v4 (Asia)
Cat Agent - Public Relations and Communications
More information coming soon.
Thanks for playing UGC League