TF2 Fall Season 2020 Rosterlocks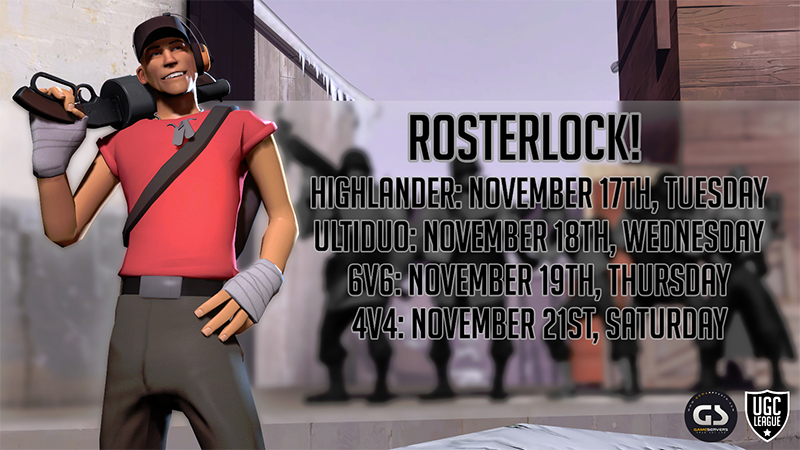 Thu, Nov 19, 2020 by Kumori
Important dates approaching!
With week 8 approaching, the regular season is drawing to a close at UGC!
Rosters will be locked in anticipation for Playoffs which will be announced soon. Teams should make sure all players are added onto their rosters before Playoffs as they will not be allowed to play in matches. Once rosters are locked, they will not be unlocked until the end of the season, there are no exceptions should you need to get someone added onto your roster after the locked dates. Rosters will be locked at 23:59PST on each corresponding day!

Rosterlock Dates
Tuesday, November 17th - Highlander Fulltime Rosterlock
Thursday, November 19th - 6v6 Fulltime Rosterlock
Saturday, November 21st - 4v4 Fulltime Rosterlock
Wednesday, November 18th - Ultiduo Fulltime Rosterlock
Thank you for joining us at UGC for Highlander Season 32, 6v6 Season 34, 4v4 Season 21 and Ultiduo Season 3! Playoffs will be announced shortly with the number of teams moving up and the set of rules.

League Support
If you have an issue that requires admin attention, please contact us on our Discord server (https://discord.gg/ugcleague) or by the support ticket system. Players who login via Steam can submit a ticket as well as leaders who login with a special leader username/password. The ticket system can be located in the Support Menu once you login as a player or a leader.
A big thanks to everyone who has played, and good luck to all of the future teams making Playoffs!
- Kumori
UGC TF2 General Manager