TF2 2021 Summer Champions + Polls!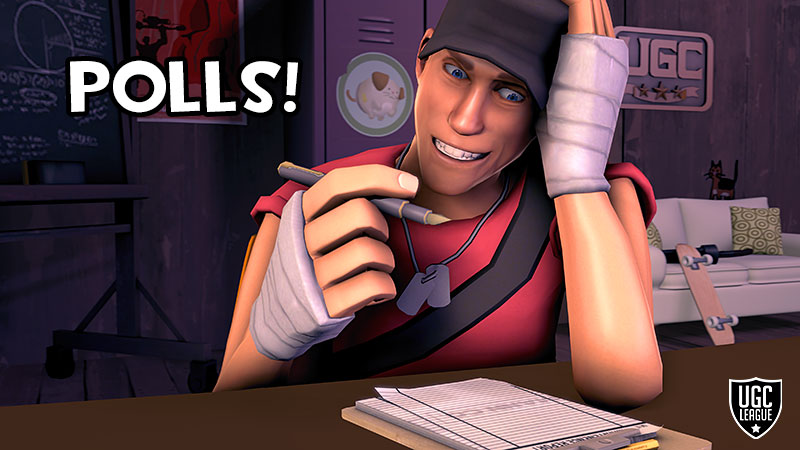 Fri, Sep 3, 2021 by GeneralNick
The UGC Summer 2021 season has just come to a close. Thank you to all the teams that participated and congratulations to our placement teams! Signups for the UGC Winter 2021 season will be opened shortly so pay attention to the announcements for when team registration opens!
UGC Summer 2021 Champions:
Highlander
North America: Rhodes Island Pharmaceuticals Inc.
EU Platinum: Gimme fu**ing opponent!
EU Silver: Gentlemerc's Union
EU Steel: actual MASSIVE Legends Here
South America: NTC eSports
AUS/NZ: McLovin
6v6
NA Platinum: GlobalClan Dark
NA Steel: República Popular de México
Europe: Big floppa gaming 6s
South America: GLO SA
Asia: Joes mad
4v4
North America: ROBOLOTECH
South America: GLO SA
Europe: the 27 club
Ultiduo
NA Platinum: asap mob
NA Steel: Balcón de bombardeo
EU Platinum: OLEG
EU Steel: jaguar drip
Asia: Roza
---
The Polls are now open!
It is critical to the success of our league, that each season all the players that took part in the competition answer the questions on the polls. This helps us guide the map pool, whitelist, Admin feedback, and much much more! Please make sure to fill out the polls for the game modes you played before Sunday, September 19th at 12:00 AM EST.
Highlander Poll: https://forms.gle/JUUXjgyQYf5Saees8
6v6 Poll: https://forms.gle/7Ey55QBz4xXMaGwq5
4v4 Poll: https://forms.gle/1N6dd8cJF2kauf4dA
Ultiduo Poll: https://forms.gle/BDp1Gxsoegk65U8h7
---
Admins
UGC is looking for new North American Admins! If you are interested you can fill out an application here: https://www.ugcleague.com/adminapplication.cfm