UGC OW Season 15 - SIGNUPS OPEN NOW!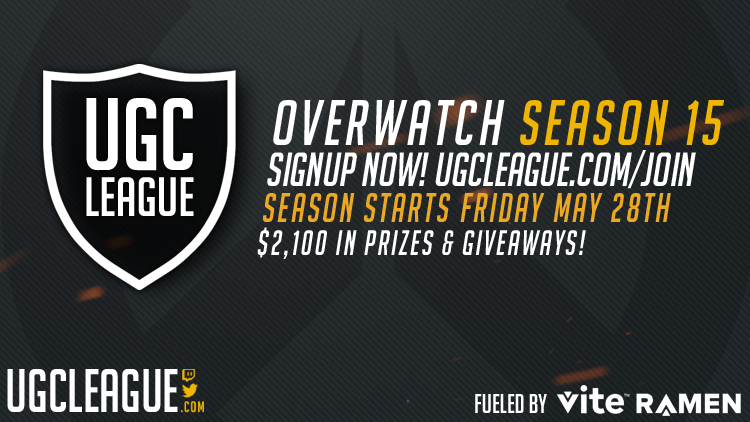 Sun, Apr 25, 2021 by snowblind
Season 15 Fueled by Vite™ Ramen
QUICK INFO:
Signups open: NOW!
Signups close: Tuesday May 25th
Season starts: Friday May 28th
Rosters lock for playoffs: Friday July 2nd
Duration: 10 weeks of regular season play followed by 4 weeks of single elim playoffs (1 match per week)
Match Format: BO3 maps during first 6 weeks & BO5 maps during playoffs
Default Match Day/Time: Fridays @ 830pm EST
Region: North America
Cost: Free to play
Prizes & Giveaways: Valued at $2,100 (Prizing limited to US residents only)
System: PC only
Skill level: All skill levels welcome!
Skill Divisions:
NA Premier: Stable teams with mid-high achieving records in other tournaments/leagues (e.g. T3), players should be mostly Masters+
NA Intermediate: Newer teams with minimal tournament experience, 3750 team avg SR limit, players should be Diamond+, 1 GM limit
NA Beginner: Brand new teams with little to no tournament experience. Most players should be Plat (and below), 1 Diamond limit
Alternative division structure based on turnout: Premier: GM+ preferred, no limits / Intermediate: Masters and below with 2 GM limit / Beginner: Diamond and below with 1 Master limit / Rookie: Platinum and below only
How to contact us:
Discord
Twitter
GOOD LUCK AND HAVE FUN!