Season 6 - Signups open now! $800 prize pool!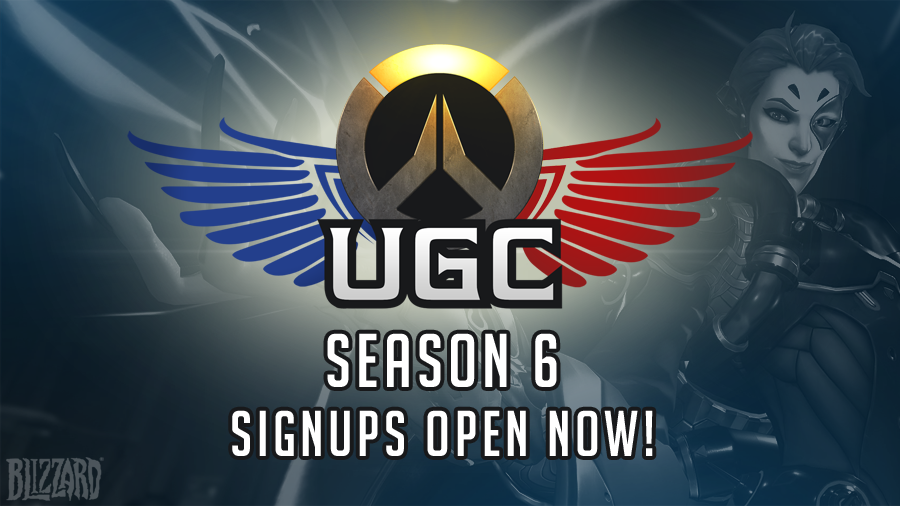 Sat, Dec 9, 2017 by snowblindfrog
SEASON 6 SIGNUPS OPEN NOW!!!
Season 6 of UGC League - Overwatch starts Wednesday January 10th!
Signups for Season 6 are OPEN now, so head over to our sign up page and click the "Battle Net Login" button to begin setting up your team! We're currently accepting new teams in North America, Europe, Asia, South America & Australia/New Zealand regions. Each Region must have a minimum of 8 teams for us to offer matches for that division.
Season 6 map list*
Week 1: King's Row / WP: Gibraltar / Lijiang Tower
Week 2: Volskaya / Dorado / Lijiang Tower
Week 3: Hollywood / Eichenwalde / Route 66
Week 4: Hanamura / Numbani / Nepal
Week 5: Horizon LC / Junkertown / Nepal
Week 6: Anubis / Blizzard World / Oasis
Playoffs: 3 weeks of single elimination (1 match per week)
*Illios will be OT map every week
Updates for Season 6
1.) Season length: Extended by 1 week compared to Season 5
2.) Iron division for North America: As with last season, we will be accepting signups to our Iron division (which is for sub 2700 and below SR players). Last season we introduced this division but unfortunately did not get enough teams to sign up. In the event that too few teams sign up this season we will have to place Iron teams into the Steel division.
3.) Moira: Allowed
4.) Recruiting: LFT posts older than 30 days have been pruned from the Recruiting Page.
5.) Prizes: $800 prize pool!
Quick Setup Guides for new teams & players: How to create/setup a new UGC OW team & How to join a UGC OW team. Also please read the full ruleset for Season 6!
How to contact us:
Discord
Battle Net snowblind-1570, BOOMstick-11199, Iyarkonan-1785, Zabi-11564 & DiegoRed-1558
Twitter

For players unfamiliar with our league, UGC is a completely free grass roots league run by the community for the community. We currently run the largest amateur Team Fortress 2 seasonal league in the world with over 8,000 rostered players in North America, South America, Europe, Asia and Australia. We have been around since 2002 and have supported a number of Steam games throughout the years. This is our 6th season supporting Overwatch!