Season 10 - Starts May 20th!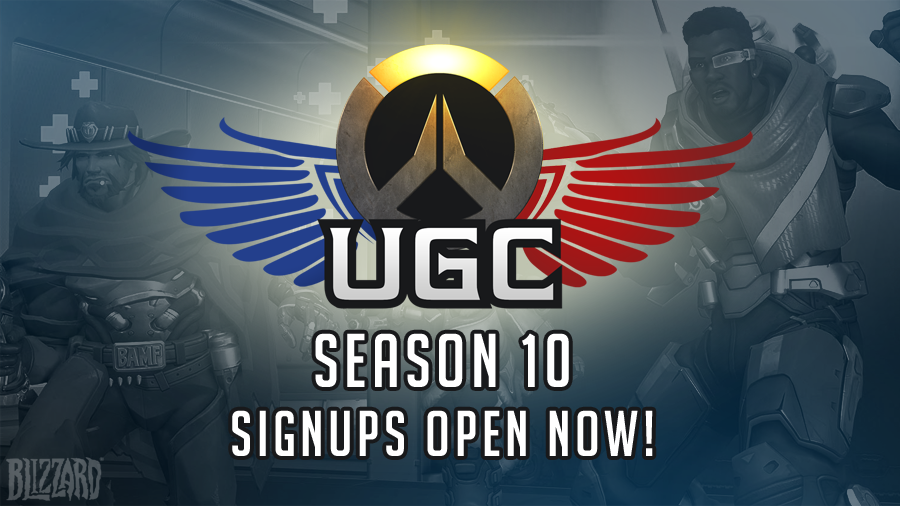 Mon, Apr 29, 2019 by snowblindfrog
SEASON 10 SIGNUPS OPEN NOW!!!
Season 10 of UGC League - Overwatch starts Monday May 20th! ALL skill levels welcome!
Signups for Season 10 are OPEN now, so head over to our sign up page and click the "Battle Net Login" button to begin setting up your team! We're currently accepting new teams in North America, Europe, Asia, South America & Australia/New Zealand regions. Each Region must have a minimum of 8 teams for us to offer matches for that division.
QUICK INFO:
Current Season: 10
Season starts: Monday May 20th
Signups close: Wednesday May 29th *Signing up this late means you will only get to play 8 of the 10 regular season matches and your team would need a high Win % to have a shot at playoffs!
Rosters lock for playoffs: Monday July 22nd
Duration: 10 weeks of regular season play followed by 4 weeks of playoffs (1 match per week)
Match nights: Mondays
Fixtures posted: Thursdays
Cost: Free to play
Prize pot (NA Premier only): $300 in Overwatch swag for 6 players
System: PC only
Regions: NA/SA/EU/AS/AUZ
Skill level: All skill levels welcome!
Skill Divisions:
NA Premier: Stable teams with mid-high achieving records in other tournaments/leagues (e.g. T3). Players should all be Masters+.
NA Intermediate: Newer teams with minimal tournament experience. On avg, players should be Diamond+, 2 GM limit.
NA Beginner: Brand new teams for Plat (and below) players.
Open: EU/SA/AS/AUS-NZ only (unless enough teams signup to split into skill divs)
Updates for Season 10
1.) Season length: 10 weeks of regular season matches followed by 4 weeks of single elimination playoffs.
2.) Public profiles: All players on your roster are required to have public Overwatch profiles in order to participate in official UGC matches.
3.) Starters vs Subs: Leaders are required to designate each player on their roster as either a Starter or a Sub
4.) Intermediate: SR guidelines updated. Added: Individual Player SR expected be Diamond or above, with a team average SR at 3750 or below.
5.) Map order: Maps are to be played in the order they appear on the fixtures page. Home Team picks color, do not change after that.
6.) OT Maps: OT map will change each week, please make sure you check the fixtures page each week.
7.) Lobby settings: Must be set to Invite Only
8.) Baptiste: Allowed
9.) Recruiting: LFT posts older than 30 days have been pruned from the Recruiting Page.
10.) Spectator rule updated: Coaches may spectate their team side only and must be muted in voice chat during the match. Coaches are only permitted to communicate with their team while the game is in the lobby.